The choice of gearless elevators is a common question faced by many developers and builders in their projects. Among geared and gearless elevators, gearless elevators are popular for their various advantages. But geared elevators are very attractively priced, so better options will still be adjusted based on desire, skill, suitability, affordability, and many other changes. In this article, we'll discuss various aspects of gearless elevators in detail to help you decide which one you should choose.
What is a gearless elevator
The gearless traction electric elevator was first invented by Otis in 1913 and was first installed in the Woolworth Building in New York City. This type of drive system can be used in buildings of any height and operates at much higher speeds than steam-powered elevators. The design has proven to be so durable that even now, when buildings are modernized – and elevator control systems are replaced with the latest electronic equipment – it is rarely necessary to replace well-maintained gearless machines. These elevators typically operate at speeds in excess of 500 feet per minute (or 2.5m/s), but depending on the application, some gearless traction elevators may operate at speeds as low as 100 feet per minute, especially if it is used in place of a hydraulic elevator. In a gearless traction machine, five to eight wire ropes called hoist ropes (or wire ropes) are attached to the top of the elevator and wrapped around the drive pulley in special grooves. The other end of the cable is connected to a counterweight that moves up and down the shaft on its own guide rails. The combined weight of the elevator car and counterweight presses the cable into the grooves of the drive pulley, providing the necessary traction as the pulley turns.
Advantages of gearless traction machines
Low wear and tear

The biggest advantage of a gearless tractor is that it has no rotating structure and no mechanical wear anywhere except for a set of bearings on the motor rotor shaft (which is also the traction shaft). With no wear and tear, the tractor life is naturally extended.

Energy saving

Because there is no transmission mechanism, there is relatively no mechanical power loss. It also saves energy and operating costs.

Simple installation. Since the tractor is fixed directly on the motor shaft, it is compact and light weight, easy to lift and transport, so it is easier to install in the field.

Smooth operation.

Because there is no transmission structure, there is no idling and slipping of belt drive. The elevator runs with high precision and reliable operation, and there is no gear running noise and vibration. As a result, the elevator runs smoothly and with low noise. This is also a prominent feature of the elevator's green revolution.

Safe, no lubricating oil required

Gearless tractor has no transmission structure, which saves the lubricating oil of traditional speed reducer. It only has enough grease in the bearings. Daily maintenance does not need to replace the cumbersome lubricating oil, and also avoids pollution and maintenance difficulties caused by lubricant leakage, saving the cost of lubricant.

Easy to use

Because gearless tractors have no liquid lubricant and do not leak, not only is there no pollution, but they can be installed in any position, such as hanging from the top of the shaft with the feet facing upward.
Advantages of gearless elevators
The elevator operates at a faster speed
Designed to provide higher floor travel
Gearless traction elevators are typically faster compared to geared traction applications
It has the capability for a wide range of freight and passenger applications
The unique motor design provides higher torque and operates at lower speeds, which extends the life of the gearless machine.
The gearless traction drive pulley has a "U" shaped recess that allows it to grip the rope. More importantly, the motor interfaces directly with the drive pulley. Gearless machines with other drive equipment are located on the top floor or above the hoistway in an elevated machine room.
When to choose a gearless elevator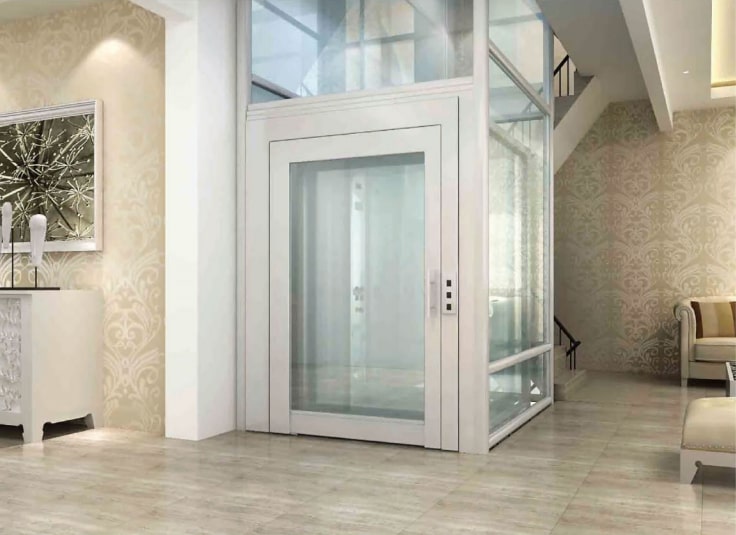 Requirements for the machine room

The machine room is one of the most important variations between geared and gearless elevators. On geared elevators, the wheels and motor must be installed in a machine room located above the elevator shaft. However, since the wheels are directly connected to the engine and cab, there is no need for a machine room with a gearless elevator. This is why gearless elevators are often referred to as machine-room-less (MRL) elevators.

The machine room is usually located above the elevator shaft and must be considered in the design of the building. The machine room needs to be well lit and air conditioned. Machine rooms are large and need to be built to match the architectural style of the house. Therefore, the machine room can be considered as a waste of space and a major drawback in the manufacture of gearboxes for gear lifts in India.

Energy Consumption

Gearless elevator motors can be smaller than geared elevator motors because they do not have gears. Gearless motors can be smaller than 1⁄2 of a geared motor. this makes gearless motors more efficient when using electricity. By making the motor smaller, other components will also be smaller. This will help improve performance and make gearless motors more attractive.

Capacity Issues

Geared traction elevators can move at speeds of up to 152 m per minute and a maximum height of nearly 75 m, while gearless traction elevators can move at speeds of up to 610 m per minute and distances of up to 600 m. However, the load capacity of both geared and gearless elevators is approximately the same and is sufficient for passenger travel. Specifications may vary from project to project, but it is clear that the speed and distance capabilities of gearless elevators are more favorable than those of geared elevators.

Maintenance

One of the key issues, of course, is the maintenance of both motors. Geared traction elevators have larger motors than gearless traction elevators and require a larger combination of tools, which makes maintenance more difficult. In addition, the gear motors require grease, which needs to be changed frequently, making maintenance difficult and costly. These maintenance issues make gearless traction elevators (smaller components, no oil in the gears) more advantageous and attractive than geared elevators.
Conlclusion
With this information, gearless elevators have a very strong advantage when choosing between geared and gearless elevators, but the final choice of solution depends entirely on the available funds. A gearless elevator costs more, but there is no doubt that it also offers more advantages. So when you can't decide, we recommend that you contact us and our team of professionals will give you a perfect and satisfactory solution.
Feel free to visit our gearless elevator website and check out our products.